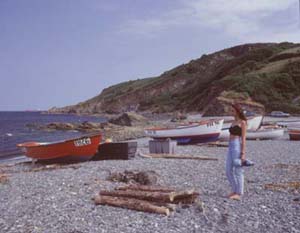 St Keverne village clusters around the square; you'll find whitewashed cottages, a beautiful church, two pubs and a handful of shops. On summer evenings you might catch the St Keverne Band, or the Male Voice Choir, and the square really comes alive at the annual festivals of the Ox Roast, Carnival and Rodeo. A short walk out ofthe village brings you to Tregellast Barton, where you can follow lakeside and woodland nature trails.
Two Cornish rebellions, one in 1497, the other in 1547, have their roots in St Keverne. In the church wall, facing the square, there's a memorial stone to the village blacksmith Michael Joseph, leader ofthe first uprising. Protesting against the punitive taxes levied by Henry VII, the uprising was routed on its march to London and Joseph was subsequently hung, drawn and quartered.
In St Keverne Church there's a shipwreck window; and in the churchyard, there is a stark memorial to the 106 lives lost when the liner Mohegan was wrecked in 1898 .Just off the coast at Porthoustock (pronounced P'rowstock') is the reason why: the Manacles -Jagged rocks lying beneath the surface of the water. The yvillage itself was once the haunt of smugglers. In 1762, five men from here brought home 218 barrels of brandy!
The Manacles Reef is a popular Dive site - with Scuba centres operating guided dives on the Reef. For more information visit Atlantic Scuba - Click here for details. Atlantic Scuba offer Diving courses and guided Dives around Falmouth Bay and the Manacles Reef. Their Rhib is based in Mylor on the Fal estuary.
A few boats still set sail from the pretty fishing village of Porthallow, where, in 1832 1,400 hogsheads of pilchards were landed in one day. Stroll along the beach for spectacular views of Falmouth Bay, then browse through the collection of shipwreck relics and old photographs in the pub.