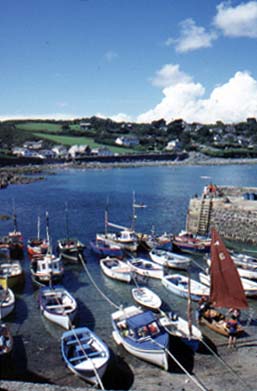 Coverack is a fishing village built on both sides of a spur of rock that juts out into the sea. There's a large, crescent-shaped beach in the sheltered bay, ideal for swimming and windsurfing. Fishing boats rub gunnels with pleasure craft in the small harbour which is built out of local serpentine, and the old lifeboat house and slipway, are reminders of a past rich in maritime adventure.
The Coverack lifeboat rescued many from the Manacles: one and-a-half square miles of jagged rocks Iving just beneath the waves, which claimed ships such as the Mohegan in 1898 with the loss of 106 lives, and HMS Brig Primrose, lost in 1809 with 120 officers and men, the only, survivor being a drummer boy. Smuggling was a regular, and often necessary, way of life in these parts, and if you walk to one of the nearby coves, you'll be treading the paths of the coastguards and Preventive men.
You can enjoy a pasty and a pint at the hotel, named after a liner The Paris, which was stranded on the Manacles in 1899. There are also shops selling local crafts. The small church of St Peter, built in 1885 for £500, has a serpentine pulpit, a gift from the old serpentine factory along the coast at Poltesco.
Time your visit right and you'll catch some of Coverack's many events. The Coverack Singers perform in the village hall and there are beach barbecues, an annual carnival, regatta and lifeboat day, Art Club exhibitions and harbourside carolares. heathland and copses, with views over the bay.
.